Many do not know how the tier system works, although you have accounts for everyone. Let's look at the system, its work, what titles and ranks are in each. First, look at your profile in x-yo. There you can see the icon of the current level, the amount of experience, as well as the titles that you will get when you reach the next level. Below is rank and its icon, it is thanks to him that the system will pick you opponents in the game in competitive mode.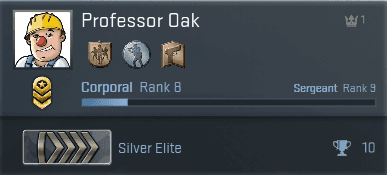 Ranks in cs go
The titles cs go is the ELO point system. It can be compared with the MMR system in the famous Dota2 game, only here you do not see the points that you scored or lost at the end of the game. There are only stages of titles that you will raise after winning a matchmaking. If you win several times, there will be a great chance that the rank will go up. And vice versa, after a series of lesions, the rank will go down. The lowest rank in the game is Silver 1, the highest - Global Elite.



Calibration of ranks
Calibration is an intrinsic part for every player on the way to matchmaking, consisting of ten intermediate games, after which the system will give you rank. As you know, the highest rank after calibration is Legendary Eagle Master, until Global Elite is not so far.
An important factor is that the calibration will not be available if the level of your cs go profile is lower than the third. To improve the level, play in public or select Deathmatch mode, this applies only to official Valve servers. Once calibrated it was possible in just one day, but now with a victory in two matches in a row - you get a 21-hour lock for competitive games.



Statistics of titles in cs go
Most players wonder how many gamers picked up their rank, but how much they lowered. On the site csgosquad you can track the status of all players, as well as your detailed stats in games: K / D, winning percentages and so on.
In the winter of 2015, Valve updated the operation of the matchmaking system, which greatly lowered the rank of many players in kos. For example, those who were Global Elite - downgraded to Legendary Eagle Master, the battle for ranks became heavier. Let's compare the statistics for December 2015 and July 2016.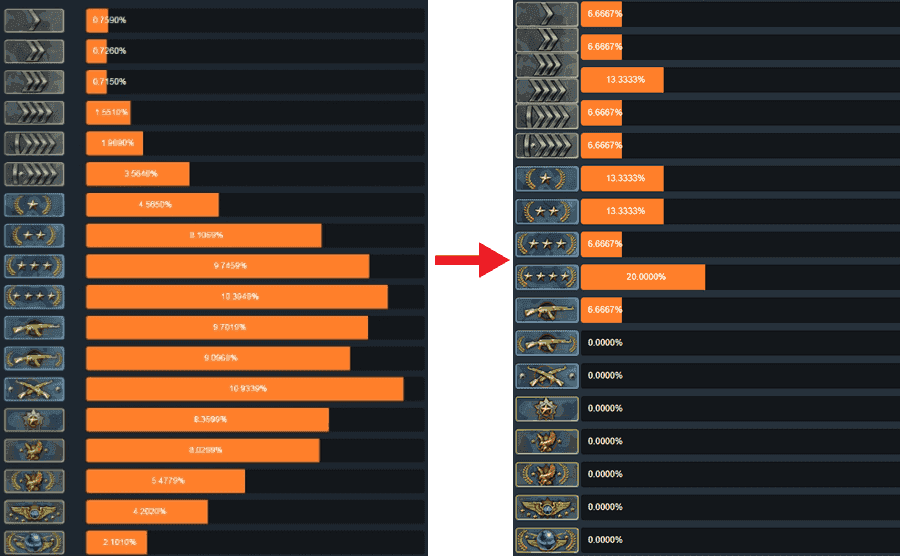 We see that players who have ranks from Legendary Eagle to Global Elite have become much smaller. Unfortunately, no one knows how this system of lowering and increasing ranks works, because this information can be said to be the "secret of the firm". Therefore, all we can advise is to play and win in a series of competitive games.