Many players are interested in skins and other inventory in cs go, playing roulette cs go or doing skins trading. Therefore, they may face a problem - how to learn the trade link for exchanging information in cs go and what is it in principle necessary for?
Trade of game items in cs go
Steam, as a gaming platform, is also associated as a large community of players who often exchange game objects among themselves, such as skins, cosets in Dota2 and so on.
What is the trade link for Steam?
Steam link for sharing is needed in order for you to accept exchanges from all players, regardless of whether they are on your friends list or not. Exchange can work in offline mode, that is, when you do not have Steam running. Agree that this is a useful thing? Now, in detail, how to get your exchange link exchange?
How to find the trade link in the incentive?
1. Start Steam, hover over your nickname and select "Inventory".



2. Find the "More" button and click it.
3. When the menu is opened, select "Inventory privacy settings".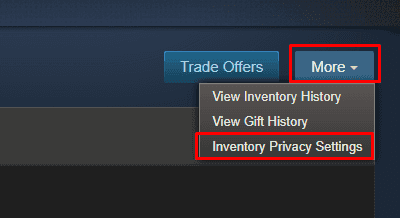 4. In the Inventory row, select Open.
5. Click the "Save Changes" button.



The first stage is passed, it remains to get the very Steam trade link.
Follow THIS link
In the window that opens, you will see a link for sharing on Steam.