In our time, the definition of "stream" is gaining popularity and becomes a well-known phenomenon, and streamers have become public, and now they can be recognized all over the planet. This leads to the fact that the game cs go and stream is becoming more widely known concepts every day. Also, the concept of tape drives has its own haters (haters) that do not understand its meaning. To make the haters fall in love with the streams in X, we will detail the nuances in this article.
The word "stream" from English translates as "stream", that is, the conduct of broadcasting in online mode using the appropriate Internet sites. Here we are talking about a live streamer, which removes the way he plays in Counter-Strike: Global Offensive. There seems to be nothing special about this, but lately, streaming games has become a new cult, and it's also a very good way to make money with Donate. The most popular streaming platform is Twitch.tv. This resource can be called a bat of all streams. It was through him that you got acquainted with all the events that occur in the gaming industry, namely the broadcasting of live championships on the air. The most popular projects of this platform can be called Dota2, Legue of Legends, CS GO, Hearthstone and others. Much less audience is concentrated in one user and offline games.




What is the meaning of streams?
Quite often, they say that stream is a useless occupation and there should not be such a thing. But in most cases people like that do not have a clue what the stream is and have never encountered it. For information, the stream can not be called a futile exercise, as it seems initially. On the well-known channels you can see different master classes from pro players like on official Steam servers, as well as in mods like zombies, Hide and Seek and others. In similar modes, the game can radically differ from the one in which we most often play and some gamers, it may come to mind.
In addition to the most informative nature of the stream, the main attribute is of course the streamer itself. If he has an excellent charisma, the way to beautifully present this or that information, various zest, then his fans are ready to watch him for hours. Also, you must learn to communicate with your audience, which, as a rule, has a relatively equal age. If you can attract attention, then your career will be successful.
To attract the attention of your viewers, you need to adhere to the following factors:
attraction of spectators
advertising
creating a unique image
original content
In other words, the main task of the streamer is that you are interesting to your audience, even though you will play what game. Note that 99% of the goals of streaming are making money. Money you can get thanks to donations (donations) that your fans can send. It turns out that the audience pays you "money" for what you do for them, namely high-quality content.
Here is an example about the player Yaroslav "pashaBiceps" Yarzabkowski from the team Virtus.pro. In addition to his professional career, he conducts streams, where he also earns good money. One of the brightest moments was the one in which he received a donate of $ 25,000 from just the user motar2k.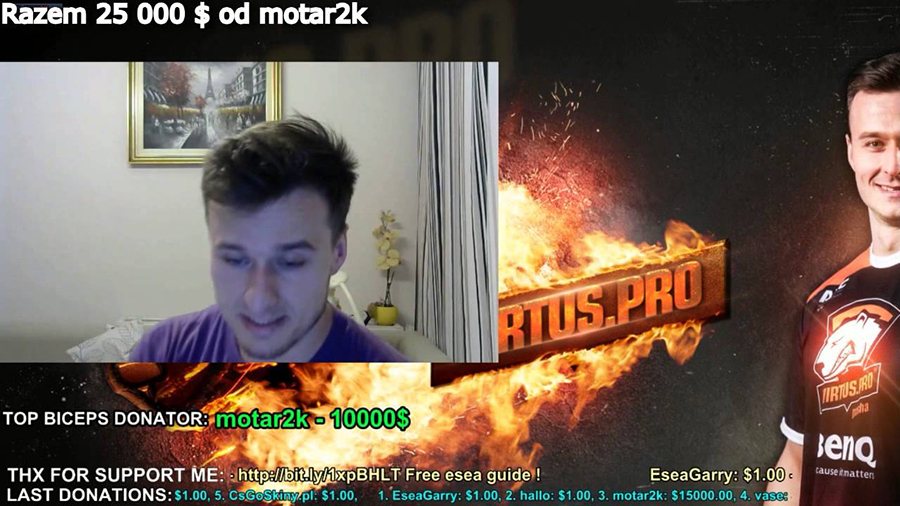 How to become a streamer in cs go?
We will not consider popular streamers in CS, since you can go to Twitch yourself and in the Stream section choose any one you like. Let's focus on whether it's possible to start streaming in CSO, create a channel and promote it, so that it becomes popular, because now the competition is huge. So apply maximum effort, patience and of course money to promote your channel, without them nowhere anywhere. Also become a unique person to stand out against the background of other channels. Most often new spectators are attracted to the girls-streamers. Their natural beauty and natural sense of smell attract the male audience, and as a result, on the stream of the girls, 95 percent of the audience is made up of men.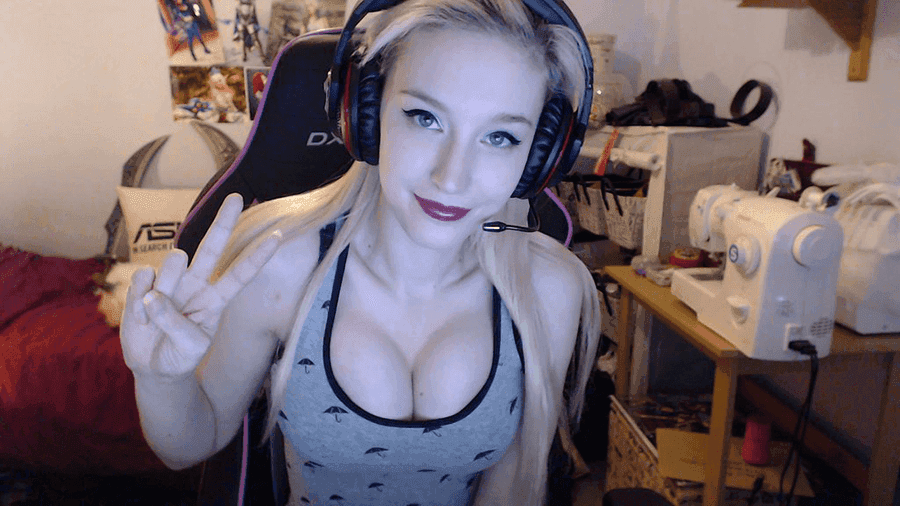 In addition to you and your qualities of streaming through the webcam, commenting on something and being interesting, you need to have a powerful computer that will run all modern games on the maximum requirements, as well as the stream itself, since it consumes a lot of resources of your PC. Usually not the top-end PCs are used for streaming, but they allow you to stream without dropping FPS and deteriorating picture quality. Costs for components to the computer are not very large and with a successful streamer career you will quickly beat them off. So, for your channel to be successful you need to have:
powerful personal computer
excellent headset (headphones, microphone, video camera)
a unique role that differs from the rest
the ability to attract and retain an audience on your channel
The most common beginner streamer errors in CS: GO
The most important rule of the streamer is not to make mistakes that can radically change the destiny of your channel and you will not achieve success in this matter. Below is a list of the following errors:
1. Note that among the well-known games already and so there are many different channels and starting your cs go stream career is not exactly right from them. Sometimes it's worth trying to start with a popular earlier game, and after a while, you can visit another well-known game.
2. Do not think that you will immediately become popular, it is impossible and a certain interval of time is required. Almost all tape drives, which are currently popular, were once not widely known. Try to slowly gain your audience, which is ready to watch all your broadcasts.
3. A lot of advertising does not happen. If you want to make an excellent advertising campaign, then attach to it a maximum of effort and money. There is a high probability that your channel will become known and the number of views will increase noticeably. Always post the announcement of the flow in different groups in social networks and other game resources.
4. Do not beg for money from your viewers. Treat your donates neutrally and do not forget to thank for the donation. Remember that you make a great picture for the viewer. Agree that no one will look like someone is begging for money.
5. Find in yourself a unique style that you will use to conduct streams. Be interesting to your viewers and try to keep to the style.