You have seen how many players play against each other using black stripes on the sides in cs go. Aspect ratio of the monitor is 4: 3. Let's see why this is done about the players and how to add black bars on each side to your screen.
If you often watch matches of such popular teams as Natus Vincere, fnatic, Astralis, Virtus.pro and others, then you noticed that their game is different from other teams. They make such adjustments in kos, because they are used to playing on a square monitor. When everyone played Counter-Strike 1.6, widescreen monitors have not yet been invented. This was the main reason to add black bars to the already widescreen screen for playing in kc. To add black bars to the sides in cs go, you need to change the standard resolution of the monitor to a smaller one. What will it give? Increase your FPS in the game, will become less laggy if you have a weak computer. But there are also disadvantages here. Thanks to the black vertical rectangles, your field of vision will decrease many times, but you will always see a sight in front of your eyes, since your eyes will be directed straight to the center of the monitor.
Let's understand in more detail how to make black bars on the sides in kosu, there is nothing complicated:
1) Change the screen resolution, for example, to that with which ScreaM plays, namely 1024x768.
2) If your GeForce graphics card, right-click on the desktop, select "NVIDIA Control Panel". Go to the "Display" -> "Adjust the size and position of the desktop." Here you need to put a dot near the "Image format". From the list for "Perform scaling," select "GP". Check the box next to "Replacing the zoom mode". Set the resolution to 1024x768 and click the "Apply" button.
3) If the black bars do not appear, then you already have a square screen.
Below is a screenshot with all the actions that were described above.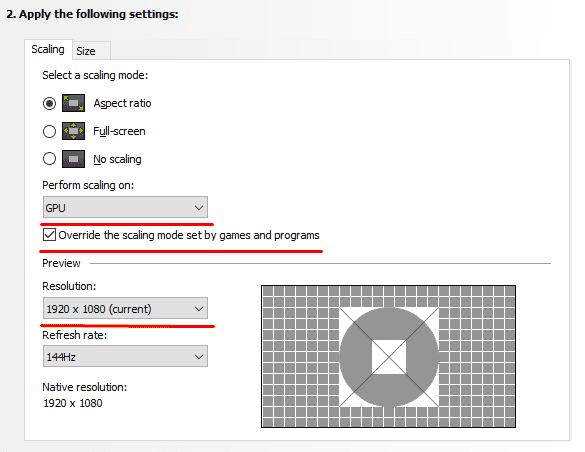 Also in the game itself, you need to set a similar resolution of 1024x768. Despite the fact that as the resolution is reduced, all models of players will also decrease, shooting them will not be as easy as it may seem. But in order to get used, it takes time.
Successful keel with a new monitor resolution in cs go!