Guru of forecasts
CONTEST RULES:
To be the first in the list of the competition, you need to "Rate" and "Wagering" in theupcoming matches.
The more you will have won rates and points for correct predictions, the higher yourranking in the list of the leaders of the competition.

Also, do not forget, that the prizes can be obtained only if you subscribe to our community Steam, Twitter, at choice Facebook or Vkontakte (depending on your preferences or language), as well as to our feeds Youtube and Twitch. Recommended, before taking part competition, subscribe to us all, so that, in future, avoid any unnecessary questions!
Winners will be announced July 31st, 2018 Twitch to broadcast, in the film site in the section "Important news" Steam Community and social networks.
We wish you good luck! Stay with us!
Best wishes, the team CSGO-Forecast!
Vinnaren kommer att tillkännages 31.07.2018
Awards
| Plats | Pengar | Rankingpoäng | Pris |
| --- | --- | --- | --- |
| 1 | | | StatTrak™ MP7 | Special Delivery |
| 2 | | | Galil AR | Eco |
| 3 | | | StatTrak™ CZ75-Auto | Pole Position |
| 4 | | | USP-S | Guardian |
| 5 | | | Desert Eagle | Meteorite |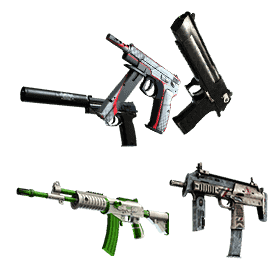 Tävlingsstatus:
Deltagare i tävlingen:
116
Vinnare
| Place | Person | Prize |
| --- | --- | --- |
| 1 | | StatTrak™ MP7 | Special Delivery |
| 2 | | Galil AR | Eco |
| 3 | | StatTrak™ CZ75-Auto | Pole Position |
| 4 | | USP-S | Guardian |
| 5 | | Desert Eagle | Meteorite |
Tabell över alla deltagare