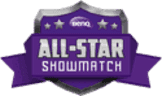 BenQ All-Star Showmatch #8
Liste Carte


Efficacité du joueur
Des statistiques détaillées sur les cartes
Premier semestre: 12 - 3
cobblestone
Deuxième moitié: 4 - 6
Premier semestre: 7 - 8
train
Deuxième moitié: 9 - 2
Les prévisions des analystes CSGO-FORECAST
Антон Дудников
AjAX

Россия, Кропоткин
---
Both teams now are in great shape, fnatic after winning ESEA ESL Pro League ready to earn more money! Let me remind you that Virtus.pro on EEPL took 3-4 place and received $25,000, fnatic $100,000 for 1st place. Also at the tournament between these teams was played the match format BO3, fnatic won 2-1. Train both teams well, but will give a slight advantage to the Swedes: fnatic - 40-65 hours, Virtus.pro - 35-50 h.
About the tournament: BenQ All-Star ShowMatch tournament consists of 2 teams (fnatic, Virtus.Pro) and the 1st match. The prize Fund is EUR 3,000 (the Winner will receive EUR 2,000, the loser 1,000 EUR)
Summarizing, we can say that the favourite in this meeting will be fnatic they are more experienced than their rivals beat them many times. Match practice will depend on their attitude.