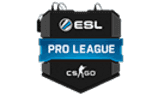 ESL Pro League Season 4 - Europe
Maps list

Player efficiency
Detailed statistics of the maps
First half: 1 - 14
cobblestone
Second half: 6 - 2
Forecasts from analysts CSGO-FORECAST
Кирилл Крутилин
ker1SH =DD

Россия, Белебей
---
Analysis: This match will take place on the map, selected Penta team. Currently unknown map.
Last commands the data match ended with the score 2-1 on the cards in favor of Penta. But it we take into account will not, because He held more than 3 month ago. At the moment, both teams are not in good shape. Over the last 5 matches Team Penta: 2 losses, 2 wins and 1 draw. In Virtus.Pro team: 3 wins, 2 losses, but it is necessary to take into account the fact that the team Virtus.Pro rivals were in stronger than their German counterparts. The Poles have more experience, greater skill, and part of them played more than the Germans in the composition of which 2 weeks ago instead of Kairi came stfN.

Conclusion: Virtus.Pro win

Recommended bet: 10% of the bank for this match.